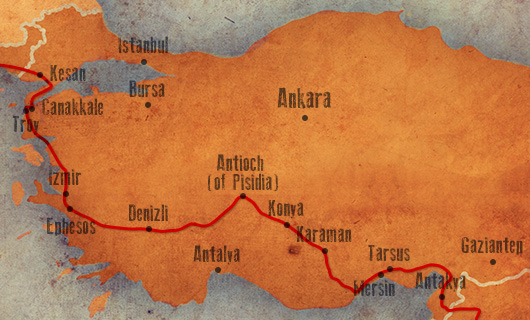 Turkey
GPS is available for all countries from Spain to Jerusalem!
For details, see the ROUTE menu
The route through Turkey is about 2.200 km! So it is the longest route of all countries at the JERUSALEM WAY!
GPS is available in the webshop, there are further details about the GPS and how to use the app. The route leads from the Greek border across Turkey to Antakya, ancient Antioch on the Orontes! This old and very special city is just before Syria is the end of the JERUSALEM WAY in Turkey.
Entry into Syria is currently not possible, the borders are still closed. Unfortunately, Syria must be left out! We therefore recommend flying from Antakya by plane to Amman in Jordan and then taking a bus north to Ar-Ramtha. This city is the starting point of the JERUSALEM WAY in Jordan. For more information see Jordan.
Contact and information
Do you have specific questions about the journey in Turkey or do you need help where? Please contact Murat Kulansi from Team Turkey (representative JERUSALEM WAY Turkey). He speaks Turkish, English and German! Murat helps in the best possible way and he also has his own travel agency. His company Aura tour specializes in hiking and pilgrimage all over Turkey!
JERUSALEM WAY Team Turkey
E-Mail: kulansi@aura-tour.com
Website www.jerusalemway.org/tr
Telephone and WhatsApp: +90 533 330 77 31
Below is a sample GPS stage from TURKEY.
---