---
Description
After a series of hilly stages, we are approaching the base camp for a stage with continuous ascents - we are approaching a mountain range that also marks the border of Galicia. However, this is a preview of the next stage, today we hike uphill from the Sarria plain along the Rio Sarria and remain on the slope in terms of the previous stages. We leave the Río Sarria along a tributary, the Río Oribio. Its valley is getting narrower and we will even have to walk a few short sections along the road. Here in Samos lies one of the oldest monasteries in Spain from the 6th century, which is now a «Monumento National» of Spain. Shortly before the stage, we hike through the small settlement of Renche with a very small, inviting church.
---
Places along the route
Sarria - O Carballal - San Pedro - Aguiada - Ermida de Nosa Señora Do Camiño - Perros - Sivil - Gontán - Pascais - Capela de Santo Domingo - Teiguín - Samos (monastery) - San Martiño do Real - Freituxe - A Reboleira - Lastres - Renche (Santiago) - San Cristovo Do Real - As Lameiras - Triacastela
---
Pictures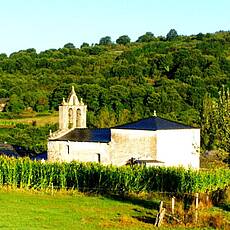 Facts & Figures
Distance: 24,96 km
Difference in altitude: 256 m
Highest point: 678 m
Lowest point: 422 m
Total ascent: 690 m
Total descent: 436 m
---
Useful apps
We recommend the "Mapy.cz" app for use on smartphones and offline navigation.