---
Description
The flat landscape with endless grain fields is comparable to the stage to Santo Domingo, but today we only cross the Carretera once at the beginning of the stage, and then hike southwards along the road, mostly with a large distance. At Cirueña we reach the culmination point of a barely noticeable slope. On this stage, too, we have longer sections of dead straight paths. This area is particularly impressive in spring and summer when we make a pilgrimage through green and later golden grain fields. In the stage town of Nájera, the monastery of Santa Maria la Real with its impressive "cloister of the knights" is one of the first buildings in the village. We should definitely not miss a visit.
---
Places along the route
Santo Domingo de la Calzada - Cirueña - Fuente de San Cristóbal - Fuente de Los Romeros - Río Tuerto - Azofra - Monasterio Santa María la Real - Puente de Piedra - Nájera
---
Pictures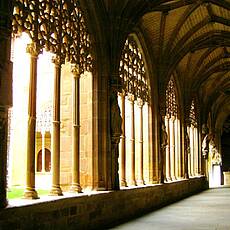 Facts & Figures
Distance: 21,97 km
Difference in altitude: 260 m
Highest point: 745 m
Lowest point: 485 m
Total ascent: 263 m
Total descent: 406 m
---
Useful apps
We recommend the "Mapy.cz" app for use on smartphones and offline navigation.