---
Description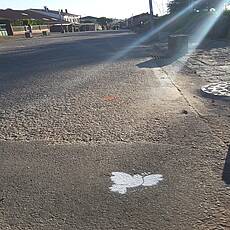 After the three quiet stages from Finisterre to Santiago, we have undoubtedly gathered a lot of impressions in Santiago de Compostela and also met a large number of pilgrims - today's stage gives us time and leisure to process these many impressions. We leave the center of Santiago and pass the outskirts of Monte do Gozo, here first at the local hostal, which is designed to accommodate a mass of pilgrims, and then at the campsite, which is also designed for many visitors. Shortly afterwards we circle the airfield of Santiago (Lavacolla) at the northern end of the runway, and then suddenly there is silence until the stage location O Empalme, apart from oncoming pilgrims who often enjoy their last kilometers on the Camino singing.
---
Places along the route
Santiago de Compostela - Monte do Gozo / Albergue - San Marcos - Camping Monte Do Gozo - Vilamaior - A Lavacolla - A Esquipa - San Paio - Aeropuerto de Santiago de Compostela (Lavacolla) - Cimadevila - Amenal - San Antón - A Rúa - Chapel Santa Irene - O Empalme
---
Pictures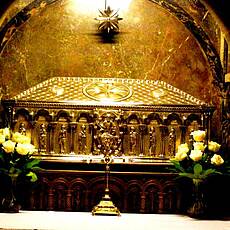 Facts & Figures
Distance: 23,31 km
Difference in altitude: 166 m
Highest point: 411 m
Lowest point: 245 m
Total ascent: 589 m
Total descent: 485 m
---
Useful apps
We recommend the "Mapy.cz" app for use on smartphones and offline navigation.