---
Description
On the stage to Palas de Rei we meet a single larger town, Melide. It is recommended to visit Santa Maria de Mellid with its famous murals. The 14th century Monasterio / Hospital de Sancti Spiritus is also a historical record. The stage location Palas de Rei means «royal palace», but that there has never been a building there.
---
Places along the route
Rivadiso - O Río - Pedrido - A Fraga Alta - Boente de Arriba - Raído - Melide - Desecabo - O Leboreiro - O Coto - A Campanilla - Casanova - Ponte Campaña - A Taberna - San Xulián - O Carbillal de Abaixo - Ponterroxán - Palas de Rei
---
Pictures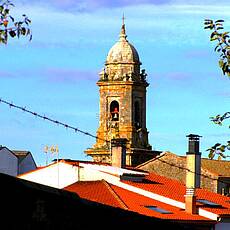 Facts & Figures
Distance: 25,93 km
Difference in altitude: 265 m
Highest point: 569 m
Lowest point: 304 m
Total ascent: 691 m
Total descent: 430 m
---
Useful apps
We recommend the "Mapy.cz" app for use on smartphones and offline navigation.