---
Description
We leave Portomarin at the south-western end of the village, where we first enjoy the view of the Miño reservoir at the pilgrim's gate, a reservoir which the original location of Portomarin in the valley floor has fallen victim to. From the pilgrim's gate, a staircase leads us down to the reservoir and over the road bridge we cross the Miño reservoir. Then we gradually climb to a height of a good 600 meters above sea level, and until Sarria we don't find any larger place, but various oak forests provide shade. Thanks to its proximity to the Atlantic, Galicia is a green and fertile area with regular rainfall. It is worthwhile to enjoy these green areas extensively, because we will encounter many more parched areas on our way. The stage town of Sarria in the province of Lugo is still easily accessible by public transport and, at a good 100 kilometers, is just far enough from Santiago to earn the Compostela. Many pilgrims therefore choose Sarria as their starting point.
---
Places along the route
Portomarín - San Pedro - Vilachá - A Parrocha - A Castiñera - Moutras - Moimentos - As Rozas - A Pena - A Igrexa - Mirallos - Ferreiros - Morgade - Capela de Santa Mariña - A Brea - Peruscallo - A Serra - Pension - Capela de San Silvestre - Barbadelo - Vilei - Convento Dos Mercedarios - Sarria
---
Pictures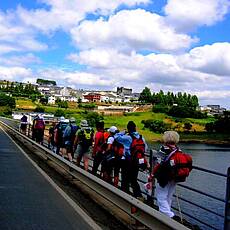 Facts & Figures
Distance: 23,18 km
Difference in altitude: 333 m
Highest point: 665 m
Lowest point: 332 m
Total ascent: 504 m
Total descent: 461 m
---
Useful apps
We recommend the "Mapy.cz" app for use on smartphones and offline navigation.