---
Description
The start of this stage from Pamplona is the most impressive part of this stage. From the historic city center, we leave Pamplona through the double gate "Francia" and walk a short moment along the foot of the imposing city wall. Then we cross the Río Arga over a well-preserved arch bridge. The Río Arga is our companion today because we largely follow this river towards the Pyrenees. However, we are not yet confronted with major climbs in this stage - so we make good progress along the Río Arga and sometimes along the main road. During this stage, after the suburbs of Burlada and Villava / Atarrabia, we only cross a few small Basque villages, ascetic in appearance and mostly with almost unpronounceable names. A refuge awaits us at the stage location Zubiri, this ascetic, but certainly welcome.
---
Places along the route
Pamplona - Burlada - Villava / Atarrabia - Arleta - Zabaldika - Irotz - Zuriain - Akerreta - Larrasoaina - Eskirotz - Ilarratz - Río Arga - Zubiri
---
Pictures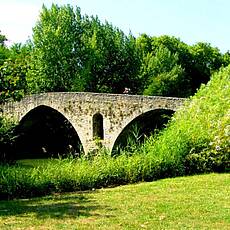 Facts & Figures
Distance: 20,49 km
Difference in altitude: 161 m
Highest point: 576 m
Lowest point: 415 m
Total ascent: 495 m
Total descent: 415 m
---
Useful apps
We recommend the "Mapy.cz" app for use on smartphones and offline navigation.