---
Description
At around 725 meters above sea level, we have reached the highest point on this hike since Finisterra, and that in the area of ​​Ventas de Narón. Then it goes comfortably downhill again to the stage destination Portomarin. In addition to oak forests, today we will also come through eucalyptus forests with their typical taste. The original location of the stage location Portomarin has since disappeared into a reservoir. It is encouraging that some of the medieval buildings have been rebuilt at the new location, including the fortified church of San Juan (12th century) with its impressive tower.
---
Places along the route
Palas de Rei - A Brea - A Mamurria - Lestedo - Portos - Ligonde - Os Lameiros de Abaixo - A Prebisa - Ventas de Narón - O Hospital da Cruz - Gonzar - Os Campos - Toxibó - Proelo - Portomarín
---
Pictures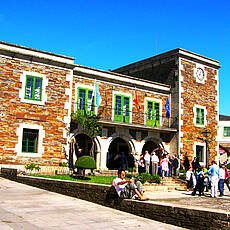 Facts & Figures
Distance: 24,51 km
Difference in altitude: 386 m
Highest point: 728 m
Lowest point: 342 m
Total ascent: 256 m
Total descent: 541 m
---
Useful apps
We recommend the "Mapy.cz" app for use on smartphones and offline navigation.