---
Description
This first stage in the region of Castile and León would actually be a comfortable and relaxing stage with the descent into the valley of the Río Valcarca and a subsequent hike along this Río Valcarca to Villafranca del Bierzo, if the narrow gorge towards the end of the stage was not there would. In this section there is no space for hiking trails, and in some cases you even have to move between the guard rails and the heavy traffic, so not a pleasure, but rather a risky hike - not for the faint of heart, but rather for those who are tired of life. The official route leads over the ridge northeast of the valley and the road and offers a beautiful view of the surrounding mountains, but also forces us to a steep ascent of around 400 meters, and later a somewhat gentler descent. Villafranca is characterized by the collegiate church of Santa Maria de Cluniaca and the impressive castle of the Marquis of Villafranca, where today's leg ends.
---
Places along the route
O Cebreiro - La Laguna de Castilla - La Faba - Las Herrerías - Puente Romano - San Julián - Iglesia de San Froilán - Ruitelán - Vega del Valcarce - Ambasmestas - La Pedrosa - Hospital - La Portela del Valcarce - Trabadelo - Tierra de Pesquezo - Cerro del Real - Quintano - Rio Burbia - Villafranca Del Bierzo
---
Pictures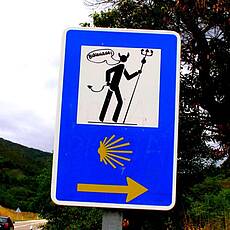 Facts & Figures
Distance: 28,74 km
Difference in altitude: 786 m
Highest point: 1282 m
Lowest point: 496 m
Total ascent: 441 m
Total descent: 1179 m
---
Useful apps
We recommend the "Mapy.cz" app for use on smartphones and offline navigation.