---
Description
After leaving Nájera and crossing the Río Yalde, a continuous climb up to the Alto de San Antón begins. From the top there is an impressive view of the former royal residence Nájera. On the subsequent path down the valley towards Navarrete, the path leads through vineyards, so this is where the famous Rioja wine comes from. In this section we also pass through the valley of the cairns, which is known among pilgrims, where a large number of pilgrims have left their personal memorial over the years. We come next to Navarrete, a village on the pyramidal Tedeón hill. Even from the village you have a beautiful panoramic view of the surroundings, and of course the panoramic view is even better from the top of the hill. There was once a castle up here, but nothing is visible today. The parish church Iglesia de la Asunción de María is worth seeing. Next we come to the Grajera reservoir, where we first pass the Emisora ​​de Radio Nacional de España. Logroño is the capital of the La Rioja region and lies on its northern border in the Ebro Valley. Here we will definitely visit the Sta. Don't miss Maria de la Redonda. The writer of these lines was particularly impressed by the depicted pilgrim accommodation in Logroño: simple accommodation, and for those interested, a joint dinner at the long table including Rioja and a transfer through the catacombs to the adjoining church for a small, "multicultural evening talk", and all of this in 2008 on the basis of a voluntary donation ...
---
Places along the route
Nájera - Río Yalde - Alto de San Antón - Navarrete - Emisora ​​de Radio Nacional de España - Pantano de la Grajera - Fuente de Murietta - Logroño
---
Pictures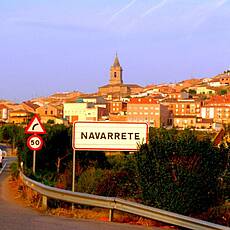 Facts & Figures
Distance: 28,37 km
Difference in altitude: 283 m
Highest point: 666 m
Lowest point: 383 m
Total ascent: 295 m
Total descent: 408 m
---
Useful apps
We recommend the "Mapy.cz" app for use on smartphones and offline navigation.