---
Description
This stage runs almost all the way along the main road N-111. Only shortly before the stage location Estella do we branch off to the right to pass the Monasterio Santa Maria de Real de Irache, a former Benedictine monastery that was also a well-visited pilgrim hostel in the Middle Ages. The stage location Estella on the Rio Ega is a jewel from past centuries that welcomes us with a photogenic pilgrimage bridge (another will follow in Puente La Reina). As a pilgrim, you won't want to miss the Iglesia de San Pedro de la Rúa in the center of town. In culinary terms, suckling pig or trout from the Rio Ega are at the top of the menu in Estella.
---
Places along the route
Arcos - Urbiola - Azqueta - Complejo Residencial Irache - Monasterio de Irache - Ayegui - Estella
---
Pictures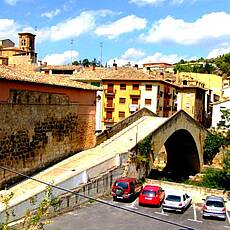 Facts & Figures
Distance: 20,03 km
Difference in altitude: 196 m
Highest point: 614 m
Lowest point: 418 m
Total ascent: 264 m
Total descent: 291 m
---
Useful apps
We recommend the "Mapy.cz" app for use on smartphones and offline navigation.