---
Description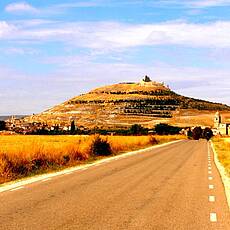 We start our hike at the barrages of the Canal de Castilla, a canal that is used for irrigation. While we can still see a lot of stone blocks and sluice gates here, the next few kilometers are shaped by reeds, ducks and other water birds, a pleasant change from the often unavoidable paths along roads. In Boadilla Del Camino, near the church, there is a "Gothic court column" decorated with scallops, which was used as a pillory in the Middle Ages. Drn Etapenort Castrojeriz is not visible for a long time when approaching from the west, because it is on the eastern flank of a ridge. However, from there we have a wide view of the first kilometers of the next stage. Castrojeriz is known for its Gothic ruins on Black Table Mountain. The Church of Nuestra Señora del Manzano is a national monument and houses the famous statue of the Madonna from the 13th century "Santa Maria d Almacan".
---
Places along the route
Frommista - Canal de Castilla - Boadilla Del Camino - Itero de la Vega - Puente da Los Matatos - Fuente Del Piojo - Río Odra U Odrilla - Castrojeriz
---
Pictures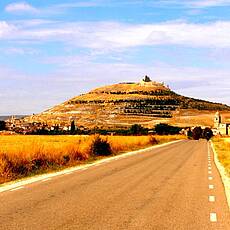 Facts & figures
Distance: 24,88 km
Difference in altitude: 150 m
Highest point: 913 m
Lowest point: 763 m
Total ascent: 290 m
Total descent: 262 m
---
Useful apps
We recommend the "Mapy.cz" app for use on smartphones and offline navigation.