---
Features XNUMX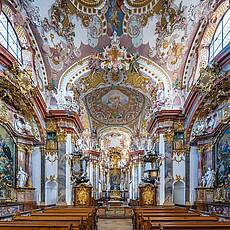 Stage 4: Aschach an der Donau - Wilhering Abbey
This stage is deliberately a little shorter, so we can arrive at Wilhering Abbey in the afternoon. This gives us time for sightseeing, prayer, meditation, washing clothes, etc.
The route is basically flat today and always near the Danube until we finally reach Ottensheim. In Ottensheim we cross the Danube with a ferry, then follow the signs on the other side of the Danube to the left and shortly afterwards see the Cistercian Abbey of Wilhering. Link Wilhering Abbey

Important information: At Wilhering Abbey, the main route of the Jerusalem Way reaches the Danube for the first time! So here is an important hub! Our feeder route coming from Germany joins the Jerusalem Way coming from Spain exactly at Wilhering Abbey and connects to a common path. Link GPS map Austria
The Danube will accompany us on to Belgrade, sometimes very close and sometimes from a distance. The longest river in Europe will therefore be our "guideline" on the pilgrimage to Jerusalem for many more weeks. The distance from here to Jerusalem is about 5000 km...
This distance is almost unimaginable, so we prefer to look to the present day and go to the gate of the monastery. At the gate we can look for a place in the Pilgrim room ask and there is one too Pilgrim stamp! As mentioned at the beginning, we have some time today to visit the monastery complex, it is very worthwhile!
By the way, tomorrow we deliberately have a short stage again, this gives us time for the state capital Linz! We will need the time tomorrow, because Linz is European Capital of Culture and has been since 1986 City of Peace! There are therefore a lot of attractions, an additional day of rest should be considered.
---
Places along the route
Aschach an der Donau - Feldkirchen / Badeseen - Ottensheim - Wilhering Abbey
---
Pictures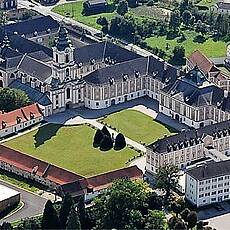 Facts & Figures
Distance: 18,67 km
Difference in altitude: 32 m
Highest point: 278 m
Lowest point: 246 m
Total ascent: 249 m
Total descent: 244 m
---
Useful apps
We recommend the "Mapy.cz" app for use on smartphones and offline navigation.