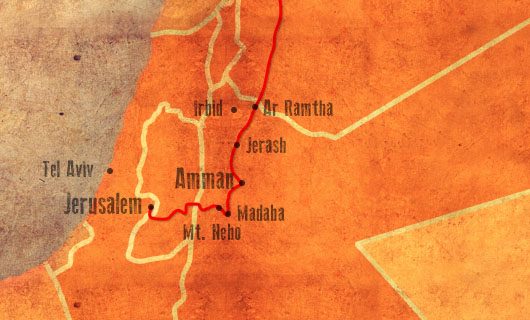 Jordan
GPS is available for all countries from Spain to Jerusalem!
For details, see the ROUTE menu
The route through Jordan is about 220 km. GPS is available in the webshop, there are further details about the GPS and how to use the app.
Note: As described in the Turkey menu, entry into Syria is currently not possible. Unfortunately, Syria must be left out!
We therefore recommend flying from Antakya to Amman and then taking a bus north to Amman Ar Ramtha to drive. The city of Ar-Ramtha is the starting point of the JERUSALEM WAY in Jordan. Thus the complete route can be continued from Jordan, this has been tried and tested and has already been done by various pilgrims.

In Ar Ramtha there is good infrastructure, grocery stores and private accommodation for Jerusalem Way pilgrims! Registration for overnight stays is required! Request contact details from us by email or Facebook Messenger. This pilgrim quarters is also entered as a POI in the GPS app.

Brief information about the route
The route through the Hashemite Kingdom is as good as possible away from traffic, on hiking trails or side roads from the north of the country in Ar-Ramtha towards Amman. Historic ground is reached right at the beginning - the world-famous Decapolis city Jerash / the ancient Gerasa!
The route then continues to the capital Amman - you should plan at least 2 days here - we have already integrated the most important sights into the GPS route! Then Madaba and Mount Nebo / Mount Moses, which offers an overwhelming view of the Jordan Valley and the landscape - meditative and picturesque at the same time. Now the route leads down to the deepest point on earth - the Jordan Trench - the Dead Sea - Baptism site in Bethany - Allenby Bridge / King Hussein Bridge - border Israel / Palestine.
---