Description
We stay in the Haute-Loire department, but today we change from the Allier catchment area to the Velay basin. After a few quiet stages on the heights of the Massiv Central, Le-Puy-En-Velay gets very lively again, because this city with 20 inhabitants is one of the most important pilgrimage places in France. The remainder of the ascent after leaving Saint-Privat-d'Allier to Wassigart is still quite steep, but the descent to Le Puy is much flatter and we can look forward to the sights ahead with the various views of the city. Le Puy-En-Velay, with its cathedral located on a volcanic hill, was designated a World Heritage Site by UNESCO in 000. The Chapelle Saint-Michel-d´Aiguilhe, enthroned on a volcanic needle, is also worth a visit. This place deserves that we take a rest and visit here.
---
Pictures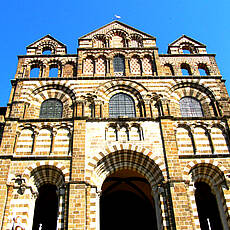 Facts & Figures
Distance: 24,10 km
Difference in altitude: 572 m
Highest point: 1.215 m
Lowest point: 643 m
Total ascent: 444 m
Total descent: 630 m
---
Useful apps
We recommend the "Mapy.cz" app for use on smartphones and offline navigation.