Description
Today's stage is again in the Haute-Loire department, and this stage is spiced with a transition that will take us to almost 1300 meters above sea level. We will reach the culmination point at Raffy. However, a few delicacies await us on the climb. Monédeyres is a well-preserved, old pilgrim village, which is located a little below the main road and is thus spared from through traffic. This place also has a lovely little chapel. Then we cross an area with a number of volcanic cones, on one of which there is a castle ruin. So the Velay was once a «hot spot». Now it won't be long before we reach the culmination point. After the descent, we come to the small, pretty town of Araules, where the Saint-Marcellin church invites us to pause. Shortly before the goal, the two mountain peaks Suc du Mounier and Pic du Lizieux greet us from above. We say hello back and let them both know that we recently hiked at roughly the same level as Raffy. At the stage town of Saint-Jeures, the facade of the Saint-George church is particularly worth seeing.
---
Pictures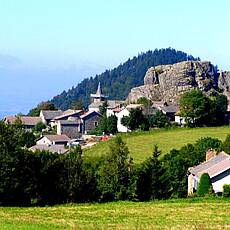 Facts & Figures
Distance: 19,71 km
Difference in altitude: 444 m
Highest point: 1.284 m
Lowest point: 840 m
Total ascent: 709 m
Total descent: 508 m
---
Useful apps
We recommend the "Mapy.cz" app for use on smartphones and offline navigation.