Description
We have now arrived in the Massif Central, and in this extensive mountain massif specifically in the «Monts d'Aubrac». At the culminating point of today's stage, we will move from the Aveyron department in the Midi-Pyrénées region to the Lozère department in the Languedoc-Roussillon region. The Monts d'Aubrac are a popular hiking area in summer and cross-country skiing is practiced up here in winter. The area is only sparsely populated and it makes sense to have enough food and weatherproof equipment with you. Aumont-Aubrac and the Aubrac are famous for the breed of cattle of the same name, we are sure to see a few specimens of this species in the pastures today. Belvézet is located on a volcanic hill on which you can still see the ruins of a former castle. On our way to the Velay we will encounter quite a number of witnesses of the volcanic past, especially in the area of ​​Le Puy-en-Velay, which we will soon be visiting. In the small town of Aubrac, only the church and the Tour des Anglais have survived from the former Domerie d'Aubrac monastery, but newer infrastructures also ensure the well-being of the pilgrims. A hearty, local specialty that we will come across again and again in this area is «Aligot», as a main course or as a side dish, a mixture of potatoes and cream cheese. The stage town of Nasbinals is a typical village in Aubrac, you can tell from the houses that they were built for an area with a harsh climate. The Norman church of Sainte-Marie is known for its perfect proportions and is the place of interest.
---
Pictures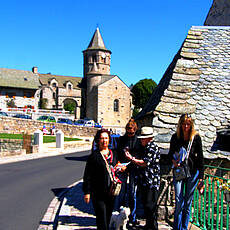 Facts & Figures
Distance: 16,28 km
Difference in altitude: 549 m
Highest point: 1.368 m
Lowest point: 819 m
Total ascent: 629 m
Total descent: 270 m
---
Useful apps
We recommend the "Mapy.cz" app for use on smartphones and offline navigation.