Description
Today's stage familiarizes us with a masterpiece of human creativity, namely a section of the waterway from the Atlantic Ocean near the Bay of Biscay (in French, Golfe de Gascogne) to the Mediterranean. This waterway on French soil runs on the eastern edge of the Pyrenees, has its culmination point in the "Canal du Midi" about 40 km southeast of Toulouse and here in the northern part uses the course of the Garonne. Our way to Jerusalem crosses this waterway during this stage. After moving to a new department shortly after leaving Saint-Antoine, it will come as no surprise that the name of this department bears the names of two important French rivers, namely «Tarn-et-Garonne». We then reach the Garonne via a hill near Auvillar. Shortly afterwards we cross the Garonne. on the other side is Espalais. But we haven't seen all the waters of the Garonne yet, because further north we will meet the two canals "Canal de Golfech" and "Canal Latéral À la Garonne", which are part of the Mediterranean - Atlantic waterway for shipping and electricity production . Between these two canals we will hike for the next quarter of an hour towards Moissac. From Malause we will then continue on the northern flank of the wide valley towards Moissac. Moissac itself is located on the river "Le Tarn", whose confluence with the Garonne looks more like a lake district. Moissac is famous for its Saint-Pierre abbey, which is one of the most beautiful Romanesque buildings in France. However, only the bell tower is really from the 2th century. The cloister of the Benedictine monastery next to it is also well worth seeing. In the old town we can still find well-preserved half-timbered houses from that era.
---
Pictures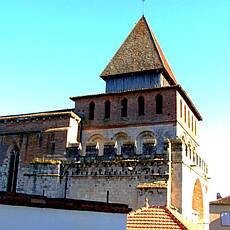 Facts & Figures
Distance: 29,33 km
Difference in altitude: 129 m
Highest point: 185 m
Lowest point: 56 m
Total ascent: 558 m
Total descent: 553 m
---
Useful apps
We recommend the "Mapy.cz" app for use on smartphones and offline navigation.