Description
Today we are changing from the Lozère department in the Languedoc-Roussillon region to the Haute Loire department in the Auvergne region, and cross this border at the Saint Roch chapel. Today we hike in the Massif Central over another height that is a popular hiking area, namely the «Monts de la Margeride». When we leave Saint-Alban after a first ascent, we pass a castle that is now used as a regional psychiatric clinic. Then we come to the Le Rouget settlement and then through a beautiful pine forest. We are a little deeper here than on the Monts d'Aubrac, and so the vegetation is clearly different. At the top we change region at the Saint Roch chapel, as mentioned. Shortly after the chapel, we also come across the Saint Roch spring. In Sauvage we pass a manor that belonged to the Templars in the 13th century. Finally, the stage destination Le Falzet is a small, well-arranged place with a hostel.
---
Pictures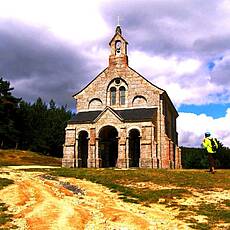 Facts & Figures
Distance: 22,89 km
Difference in altitude: 364 m
Highest point: 1.331 m
Lowest point: 967 m
Total ascent: 593 m
Total descent: 421 m
---
Useful apps
We recommend the "Mapy.cz" app for use on smartphones and offline navigation.