Description
Today's stage in the Haute-Loire department tackles the section of the Jerusalem Trail from Le-Puy-En-Velay to Geneva on the Swiss border. On leaving Le Puy we cross the Rhône to Brives-Charensac and see the remains of a Roman bridge on the right. In Saint-Germain-Laprade we will definitely want to visit the beautiful church from the 12th century - it's worth it.
---
Pictures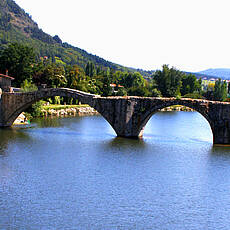 Facts & Figures
Distance: 18,00 km
Difference in altitude: 243 m
Highest point: 844 m
Lowest point: 601 m
Total ascent: 402 m
Total descent: 247 m
---
Useful apps
We recommend the "Mapy.cz" app for use on smartphones and offline navigation.