Description
Today we will spend the entire stage in the Lot department, but we will only encounter the river "Lot" at the stage town of Cahors. Our stage ends at the western end of the «Pont Valentré». This bridge was part of the city's defense system and when crossing the bridge we can imagine what it would have been like if we had been uninvited guests. The river "Lot" has considerable water flow here, and as we follow the river towards its source over the next few days, we will experience how this volume gradually decreases. The landmark of Cahors is "Pont Valentré", a bridge whose construction began in 1308. 3 towers provided with machicolations and loopholes as well as defense platforms on the other bridge piers are evidence of the military defense concept. The Saint-Etienne cathedral also expects us to visit it.
---
Pictures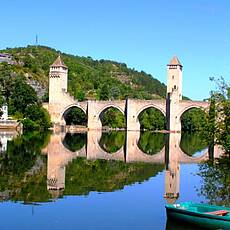 Facts & Figures
Distance: 30,85 km
Difference in altitude: 179 m
Highest point: 305 m
Lowest point: 126 m
Total ascent: 521 m
Total descent: 590 m
---
Useful apps
We recommend the "Mapy.cz" app for use on smartphones and offline navigation.