Description
This stage in the Dept. For a change, Tarn-et-Garonne does not lead us eastwards, but northwards. Durfort-Lacapelette, for example, offers us one of the opportunities to rest. Towards the end of the stage, at a height near Le Chartron-Céramique, we meet the recently restored Saint-Sernin church, which would like to motivate us to take a break. The stage town of Lauzerte was built on a hill in the 12th century, and as was necessary then, Lauzerte was also surrounded by a city wall. The place has largely retained its medieval character, which is a treat for the eyes and motifs for the camera. The two churches of Notre-Dame-des-Carmes and Saint-Barthélemy, part of a former Carmelite monastery, recall how closely faith and life were linked at the time. Lauzerte also has a pilgrim garden, a kind of open-air museum on the subject of pilgrim trails.
---
Pictures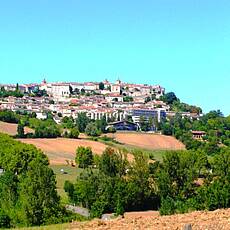 Facts & Figures
Distance: 25,73 km
Difference in altitude: 155 m
Highest point: 228 m
Lowest point: 73 m
Total ascent: 560 m
Total descent: 474 m
---
Useful apps
We recommend the "Mapy.cz" app for use on smartphones and offline navigation.