Description
Today we hike the last stage in the Departemenet Gers, a department in which we have spent a few days. At the beginning of the route we hike a little away from the traffic, but that will change again during the course of the stage. In Castet-Arrouy, a small church invites you to visit. Miradoux also has two sights: the Saint-Orens church has a single nave with several chapels, and the old market hall is also worth seeing. In Flamarens there is a half-collapsed church and right next to it an imposing château, which, however, has already been gnawed by the ravages of time. A plaque indicates that donations are being collected for renovation. The stage town of Saint-Antoine is a very small town, the last town in the Gers department. Even though the place is small, it still has a sight with its kitche: the ceiling painting is still well preserved, and the portal reflects the influence from the period when Spain was occupied by the Arabs / Moors.
---
Pictures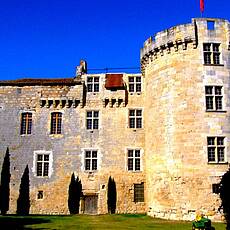 Facts & Figures
Distance: 23,83 km
Difference in altitude: 138 m
Highest point: 214 m
Lowest point: 76 m
Total ascent: 436 m
Total descent: 544 m
---
Useful apps
We recommend the "Mapy.cz" app for use on smartphones and offline navigation.