Description
On this stage in the Aveyron department, we hike on the high plateau until shortly after «Le Mas», then the descent begins down to the Lot, which we will actually follow for the first time, and all the way to the stage location Espalion. After a few picturesque turns we reach the highlight of this stage, namely the place Estaing, which is on the other side of the stream, connected to an old stone bridge. Estaing is a friendly place that can also be used as a place to stay, because it offers everything that pilgrims' hearts and stomachs want. The place is dominated by a mighty castle from the 15th century, which is open to visitors. The church in town is also worth a visit. To continue the stage we have to switch back to the left side of the Lot. In the stage destination Espalion we will be fascinated by the well-preserved, Gothic stone bridge over the Lot.
---
Pictures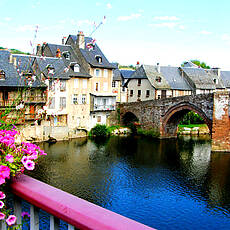 Facts & Figures
Distance: 26,07 km
Difference in altitude: 347 m
Highest point: 663 m
Lowest point: 316 m
Total ascent: 502 m
Total descent: 802 m
---
Useful apps
We recommend the "Mapy.cz" app for use on smartphones and offline navigation.