Description
Today it goes into the mountains, namely into the «Massif Central» of France, a mountain range around which most of the traffic axes in France make a large arc, either over the north of France, or then in the south along the Mediterranean Sea to the Rhone Valley. Our route through the Massif Central leads through wild and romantic landscapes towards Lyon on the Rhone. As the first sight after leaving Espalion, this path leads us past the Eglise de Perse, which with its rich building decorations, especially the tympanum of the main portal, is worth a stop. As the last place on the Lot we meet Saint-Côme-d'Olt, dominated by the castle ruins of Calmont d'Olt in the south. The city has an interesting old town center. The church of Saint-Côme-et-Saint-Damien is very special with a twisted bell tower. Then the ascent to the top begins, following more or less «La Boralde», which we cross once behind La Rozière, and then again later directly in front of the stage over the «Pont des Pelerins». At the stage, it is worth paying a visit to the church.
---
Pictures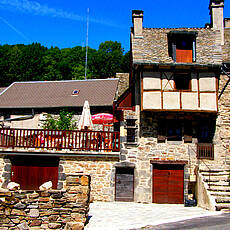 Facts & Figures
Distance: 23,53 km
Difference in altitude: 588 m
Highest point: 924 m
Lowest point: 336 m
Total ascent: 959 m
Total descent: 486 m
---
Useful apps
We recommend the "Mapy.cz" app for use on smartphones and offline navigation.