Description
Today we enjoy the Dept. again. Gers - a bit hilly, paths often off the streets, and along the way the friendly town of Montréal-Du-Gers, a suitable place to eat and stay. A highlight of this stage is the well-preserved mountain village of Larressingle, which is still completely surrounded by the old city wall. However, this village is not directly on the way, but the 2 additional kilometers are worthwhile. Condom (founded in the 11th century) lies in the middle of Armagnac and in the heart of Gascony. It is known in historically interested art circles for the Saint-Pierre cathedral and in culinary circles for its fine brandy «Armagnac». By the way, we should also visit the Church of St. Jacques (beyond «La Baïse»), because we are also on the Way of St. James. Important: The small village of Larressingle on a hill to the north of the path (approx. 2 km in total).
---
Pictures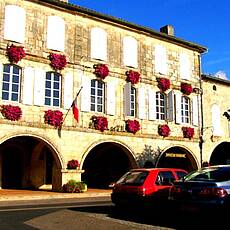 Facts & Figures
Distance: 34,64 km
Difference in altitude: 107 m
Highest point: 180 m
Lowest point: 73 m
Total ascent: 439 m
Total descent: 520 m
---
Useful apps
We recommend the "Mapy.cz" app for use on smartphones and offline navigation.