Description
This stage runs again without direct contact with the Lot, but on the heights south and west of the Lot. We mostly hike away from the main axes on a high plateau, which we climb right at the beginning of the stage. At Sénergues we are on a descent from this plateau. Here the Saint Martin Church invites us to visit, an invitation that we should accept. Espeyrac, the largest town on this stage, awaits us in the valley. After leaving Espeyrac, there is a second ascent, where we again reach the level of the plateau at Campagnac. We will stay at this altitude up to the stage place Golinhac.
---
Pictures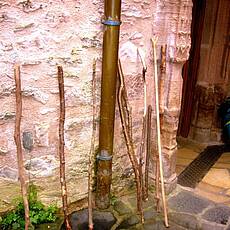 Facts & Figures
Distance: 21,26 km
Difference in altitude: 366 m
Highest point: 680 m
Lowest point: 314 m
Total ascent: 762 m
Total descent: 435 m
---
Useful apps
We recommend the "Mapy.cz" app for use on smartphones and offline navigation.