Description
Today we stay again in the Gers department during the whole stage and will get to know it from its hilly side. A good hour after leaving Condom we come to the "Lac de Bousquetara" reservoir, which brings a bit of variety to the landscape. At Pavail we come across the Chapel of Sainte Germaine, which is another good reason for a break. After we mostly hiked in the green at the beginning, we come back to the streets later. In La Romieu we should visit the Saint-Pierre collegiate church because it has a cloister worth seeing. If we cross the river "Le Gers" towards the end of the stage, we have practically reached the stage destination Lectourne. The river "Le Gers" is also the eponym for the department that we cross for a few days. The stage town Lectoure is one of the oldest settlements in the Gers department. It was once the episcopal city and had several pilgrims' hospices, but today it no longer has the same importance. The Saint-Gervais cathedral, however, gives an idea of ​​the importance Lectoure once had.
---
Pictures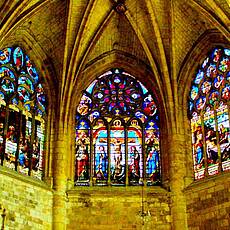 Facts & Figures
Distance: 32,42 km
Difference in altitude: 143 m
Highest point: 219 m
Lowest point: 76 m
Total ascent: 713 m
Total descent: 609 m
---
Useful apps
We recommend the "Mapy.cz" app for use on smartphones and offline navigation.