Description
Until recently, this stage was mostly along the D946, but our current route now leads north through the hills. This route is certainly a lot more strenuous, but it leads us through a harmonious landscape away from traffic. We walk through the Béarn area, which has only belonged to France since 1620. This area has a rather mild climate, which is why we will find extensive areas of corn and grapes. The stage begins with a pleasant gradient down to the height of Arthez-de-Béarn. The sights on the way start with the castle and church at Géus-D'Arzacq. Uzan is one of the larger towns on this stage and the church there is dedicated to Sainte Quitteria. Fichous-Riumayou is located on the next level, where the Saint-Pierre church invites us to a worthwhile stopover. Then we hike down a valley to Louvigny. Shortly before the stage, we meet on the small "Lac d'Arzac" reservoir, which we circle counter-clockwise before we get there and put our rucksacks down. In Arzacq-Arraziguet, the pretty arcade houses will catch our eye, and the beautiful Madonna in the church there is also worth seeing.
---
Pictures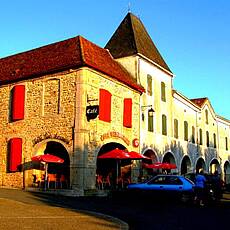 Facts & Figures
Distance: 30,23 km
Difference in altitude: 144 m
Highest point: 247 m
Lowest point: 103 m
Total ascent: 526 m
Total descent: 503 m
---
Useful apps
We recommend the "Mapy.cz" app for use on smartphones and offline navigation.