Description
Today we leave the Acquitaine region in Dept Landes (40), come to the Midi-Pyrénées region and hike in two departments there, namely through Hautes Pyrenées (65) and Gers (32). The starting point and destination are both on the Adour River, so we mostly hike near this river. Today's route leads to a large extent over field and forest paths, and again and again we come across water, in natural stream beds or in canals. The area is quite sparsely populated, and so we come across smaller hamlets again and again, but actual villages are usually next to the route. The stage town of Nogaro dates back to 1055, and we will visit the Saint-Nicolas church there, which was quite damaged during the Huguenot Wars but was later restored.
---
Pictures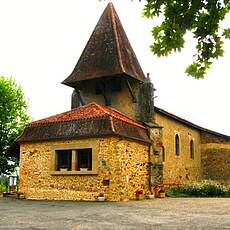 Facts & Figures
Distance: 30,75 km
Difference in altitude: 84 m
Highest point: 165 m
Lowest point: 81 m
Total ascent: 335 m
Total descent: 320 m
---
Useful apps
We recommend the "Mapy.cz" app for use on smartphones and offline navigation.