---
Description
At our starting point Aroue-Ithorots-Olhaïby, an agreement seems to have been difficult, presumably the merger of 3 communities, none of which wanted to sacrifice their names. We start with the Mairie of this merged community, but if you cannot agree which Mairie is the right one, the place name is also "the roundabout D11 / D115". At Lichos we cross the river "Le Saison", with which we now also formally leave the Basque Country (Euskadi). Communication in French should now become easier again - but we will still have a number of language hurdles to overcome before Jerusalem. Before arriving at the stage town of Navarrenx, we cross an old stone bridge (13th century), from which we should enjoy a beautiful view of the Gave d Oloron waters. Navarrenx was expanded by the kings of Navarre into a large fortification, which then expanded during the Huguenot wars proved successful, the French unsuccessfully besieged the city for a long time. The fortifications are still well preserved and provide material for an extensive tour, and the Saint-Germain church is also worth a visit.
---
Pictures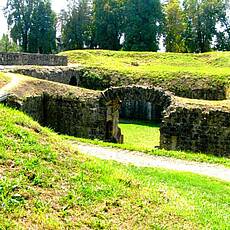 Facts & Figures
Distance: 18,49 km
Difference in altitude: 95 m
Highest point: 193 m
Lowest point: 98 m
Total ascent: 325 m
Total descent: 326 m
---
Useful apps
We recommend the "Mapy.cz" app for use on smartphones and offline navigation.