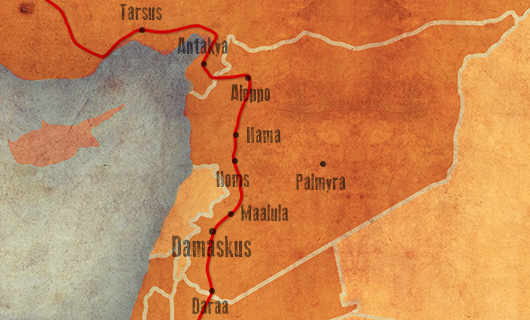 Syria
GPS route for Syria is not available
(Status: January 2021)
Entry into Syria is currently not possible, the borders are still closed. Unfortunately, Syria must be left out!

We therefore recommend Antakya (see Turkey) to fly by plane to Amman in Jordan and then take a bus north to Ar-Ramtha. This city is the starting point of the JERUSALEM WAY in Jordan. Thus, the entire route can be continued from Jordan, and this has been tried and tested and has already been done by various pilgrims.
---
Excerpt from our travel diary / blog
After all, in November 2010 we actually arrive in Syria on foot, unbelievable for us. We are grateful to have come this far. Aleppo lies in front of us and the city immediately fell under its spell on arrival. We spend several days here Syria is truly a cradle of cultures!
As a result, we crossed the entire country on foot from north to south in about a month and also reached Maalula. In the remote place in the mountains near Damascus, Aramaic is still spoken, the language that was also spoken in the time of Jesus! An excursion to the Golan Heights enriches our experience in Syria and rounds off our stay. Walking further south from Damascus we reach Bosra and then the Kingdom of Jordan.
For more on the landscape, culture, encounters and history, see the Syria chapter in the book "On the Jerusalem Way / On the Jerusalem Way"